One of my favorite Holidays is Halloween. I'm always looking for easy Halloween Treats for us to make. We love this spooky Holiday because it's an opportunity to spend time with the kids. I enjoy getting in the Halloween spirit and making crafts and the perfect Halloween treats. These fun treats and homemade Halloween candy will blow your mind.
This Spooky season, skip the prepackaged candy and try your hand at making some of these fun, festive, and scary treats! We've gathered together some of our favorite recipes for you to try. From mummy popcorn to witch's brew, there's something for everyone in this list. And best of all, most of these recipes are simple enough that even novice cooks can make them! So get cooking and have a spooktacular Halloween!
How We Celebrate Halloween
We usually dress up in our Halloween Costumes and go over to my BFF's house for a Halloween Party and eat chili. We love decorating in our family.
One year my friend made an awesome Halloween Pinata! But we really love decorating tasty, Halloween Treats.
Halloween Dessert Recipes
Halloween desserts are all about the perfect treat and spooky Halloween treats like little pumpkins and Halloween cakes. Holiday cookies like sugar cookies, spider cookies, and mummy pumpkin cookies are also a big hit for this spooky Holiday.
So, here's a list of my 35+ Top DIY Treat Ideas and easy recipes some of my friends created for you all. Enjoy! (Just click on the links for the full recipe).
More Halloween Fun
15 + Awesome DIY Halloween Crafts for Kids
50 Best Halloween Costumes for 2021
20 + Awesome Halloween Printables
119 Awesome DIY Halloween Crafts for Kids
Halloween Mummy Crafts: 18 Spooktacular Crafts for Kids
Halloween Treats for Teachers: 17 Delicious and Funny Recipes
These Top DIY Halloween Treats are going to be a conversation starter at any of your Halloween get togethers. You would never know by looking at them that they are made out of Hawaiian sweet rolls because they look just like a dessert versus a side at your every day meal. Definitely a must for your Halloween get together.
These fun monster eyes are made with Orange food coloring, white chocolate, heavy cream and candy eyes.
Frankenstein's Monster Cookies by Mom's Who Save
These cute Frankenstein cookies are made with Nutter Butter Cookies, Green Candy Melts, Dark Brown Candy Melts, Candy Eyes, Heart, SprinklesBlack and Pearl Candies.
The DIY Halloween Treats are easily crafted from fondant and require no special skills to make. These cupcakes also travel nicely. This is because the fondant spiders protrude above the cupcake's plastic wrap placed over them and is less likely to mar the frosting beneath. So, bring these sweet creepy crawlers with you!
These Grim Reaper Cupcakes are perfect for Halloween and a little bit different than the average DIY Halloween Treats. But you don't have to be a master in the kitchen to be able to make these awesome toppers.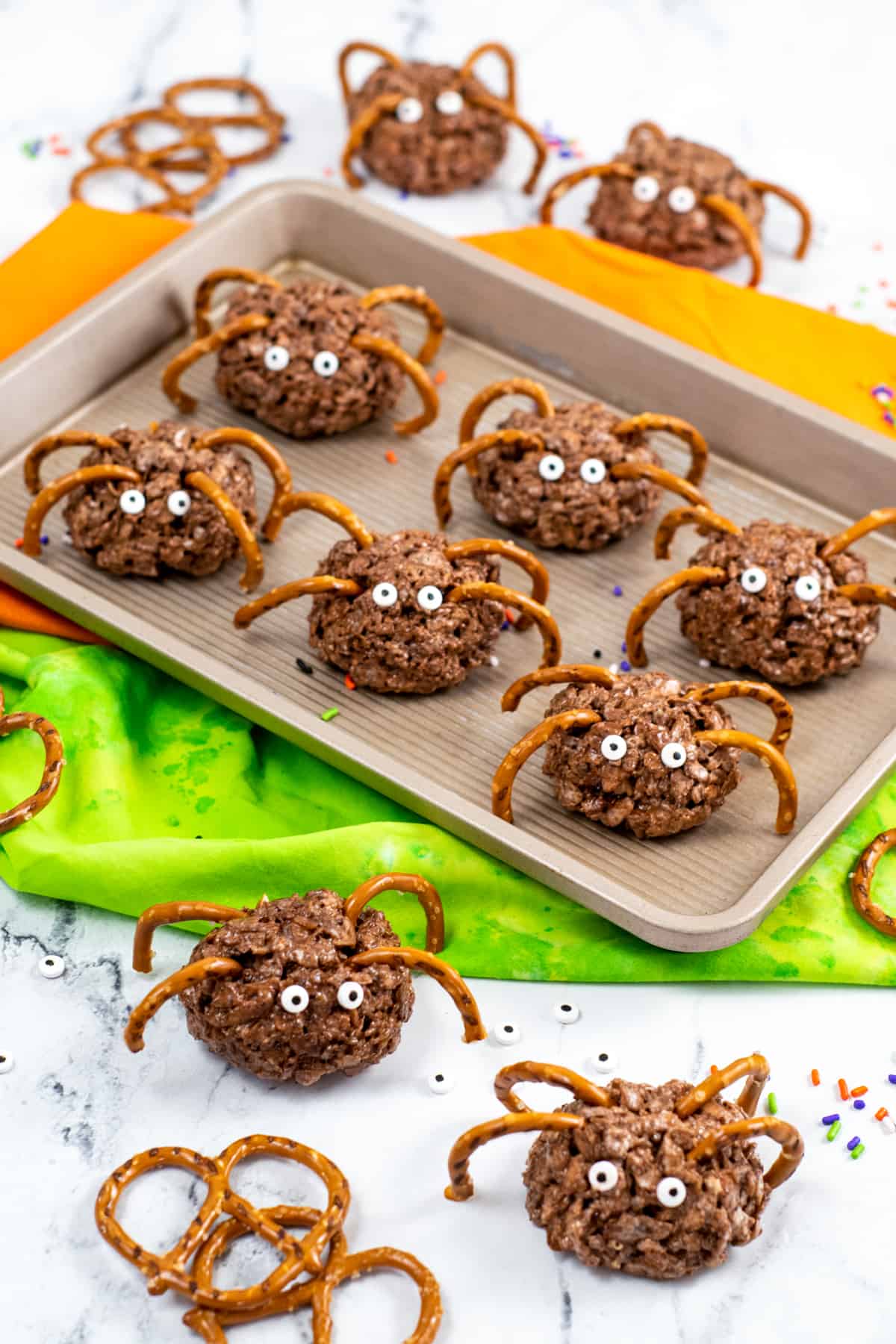 Rice Krispie Treat Spiders are a quick and easy Halloween treat made with Cocoa Krispies cereal, marshmallows, butter, and pretzels. They are fun, yummy, and just a little bit creepy too. Perfect for Halloween parties and celebrations!
These adorably spooky halloween witches hat cupcakes are made with fun colors fudge striped cookies and a hershey's kiss!
These spooky mummy Rice Krispies Treats are so easy to make it is ridiculous. Just 3 ingredients are required for this easy recipe!
These are so easy to make and are going to be loved by kids and adults alike. So, find out how to make breakfast or snack time super fun with these!
These are the cutest cake pop alternatives that can be customized in a ton of different ways and are a fun dessert to make with kids!
These are super cute. Smothered in melted chocolate with fun faces, your kids are going to love them.
These Blood Bags are so much fun for servings drinks at your Halloween party. You can get the supplies you need to make the bags right from Amazon which is super convenient.
This Halloween witch recipe is so yummy and easy to prepare with your kids. They will make adorable Halloween marshmallow witches.
It's time to get baking! These adorable Monster Cupcakes are a snap to make and are perfect for any Halloween themed occasion!
You shouldn't have to deny your sweet tooth around the holidays – so this dip is made with honey instead of sugar. Indulge all you want to because this is the pumpkin spice season!
These Halloween cookies are an easy and fun cookie to make that are so deliciously delicate. Monster cookies are so very cute and fun to make in the kitchen with kids!
These Ghost Cupcakes are so very adorable and make for a great cupcake and cookie combo. Get the best of both worlds with these adorably topped cupcakes. Plus, snag some chocolate chips while you bake!
These Frankenstein Halloween Rice Krispie Treats are easy to make and so fun to eat! They are perfect for a party, a school treat, or just a fun family dessert.
These Poison Candy Apples are the perfect addition to your Halloween treat line up. Both kids and adults will love them and think that they are so much fun at your party!
An easy-to-follow video tutorial about how to make spooktacular fondant ghost cupcake toppers. No tricks. Just treats!
These Halloween Chocolate Cherry Hand Pies are an easy treat to enjoy this October! With a chocolate pastry crust cut out in Jack-O-Lantern shapes and canned cherry pie filling, this handheld dessert will be a hit at Halloween parties!
These monster treats are perfect healthy Halloween treats and just use apples, strawberry jam, nut butter, and almonds / sunflower seeds. Naturally paleo, vegan, nut-free, grain-free, gluten-free and dairy-free. You need these on your lineup!
These Halloween Bat Cake Pops are easy to make and will be a hit at any Halloween party or celebration. You only need a handful of ingredients and a little imagination to make these fun little Halloween treats! I love the Oreo cookie wings!
These strawberry ghost treats are a fun and delicious. These are basically white chocolate covered strawberries that look like little spooky ghosts! They are super quick to make especially if you engage your little helpers!
These are the perfect Halloween-inspired treat! They are festive without being scary plus they are super simple to make.
These are a delicious puff pastry apple dessert that requires just 4 ingredients. These quick and easy Halloween treats are loved by kids and adults. These mummy pastries take literally 10 minutes to make and 30 minutes to bake!
These super fun mummy cookies are super easy to make, require no baking and the kids will love these Halloween tasty treats! Made with candy melts, oreo cookies and fun candy eyes, you can make these with the whole family.
Hosting a Halloween gathering this year? This amazing Halloween Charcuterie Board will impress all of your guests! Grab all the easy ingredients to make this awesome charcuterie board!
These cute and spooky Gluten-Free Ghost Cupcakes are perfect for Halloween! These super easy cupcakes are vegan, allergy-free, and perfect for kids! Made with a simple black chocolate cupcake base and dairy-free vanilla buttercream frosting. Whether you need a unique Halloween party treat or a simple non-candy dessert, these are a must!
This Halloween Candy Bark is the perfect holiday treat! It's also ideal for using up all those leftover trick or treating goodies.
This Homemade Little Debbie Pumpkin Delights recipe is a copycat version of the seasonal treat you know and love! A healthier gluten-free, vegan, and allergy-free recipe for the soft pumpkin spiced cookies with a spooky carved face and stuffed with pumpkin butter filling!
A fun and cute pumpkin treat that tastes like pumpkin pie but you don't have to wait for its limited-edition arrival!
Super cute and easy to make, Eye of Newt Halloween Wands are perfect for parties. Kids love them and they make a great gift too!
If you're looking for a fun Halloween treat, and festive way to celebrate the season, these spooky ghost cupcakes are perfect for your next Halloween party!
So, which one of these easy halloween desserts do you plan on making?